The biggest challenge the housing market's facing is how few homes there are for sale. Mark Fleming, Chief Economist at First American, explains the root causes of today's low supply:
"Two dynamics are keeping existing-home inventory historically low – rate-locked existing homeowners and the fear of not finding something to buy."
Let's break down these two big issues in today's housing market.
Rate-Locked Homeowners
According to the Federal Housing Finance Agency (FHFA), the average interest rate for current homeowners with mortgages is less than 4% (see graph below):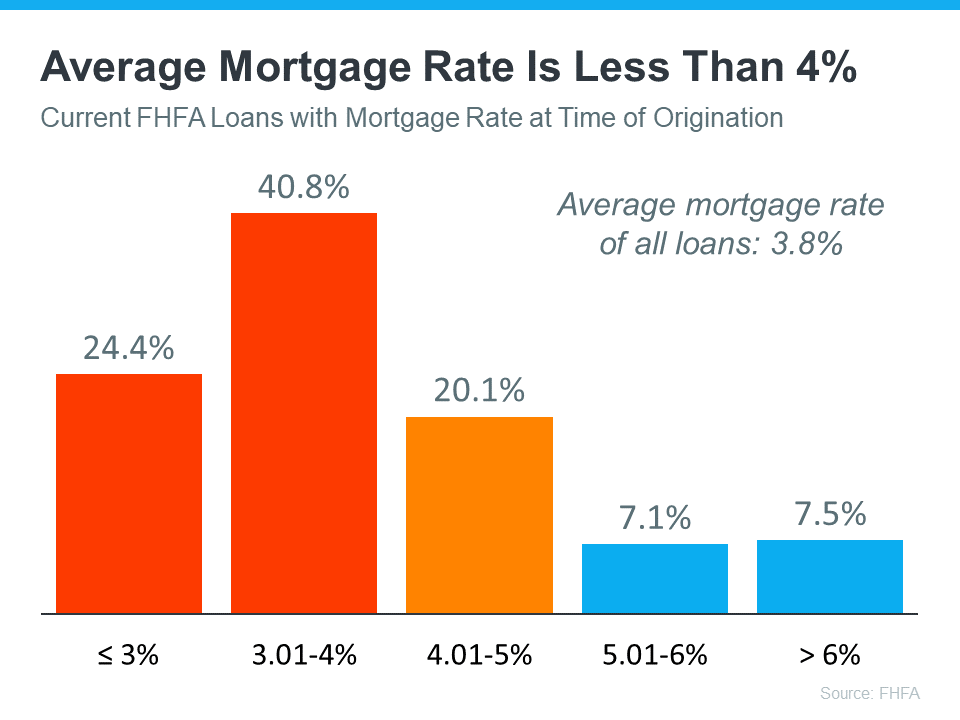 But today, the typical mortgage rate offered to buyers is over 6%. As a result, many homeowners are opting to stay put instead of moving to another home with a higher borrowing cost. This is a situation known as being rate locked.
When so many homeowners are rate locked and reluctant to sell, it's a challenge for a housing market that needs more inventory. However, experts project mortgage rates will gradually fall this year, and that could mean more people will be willing to move as that happens.
The Fear of Not Finding Something To Buy
The other factor holding back potential sellers is the fear of not finding another home to buy if they move. Worrying about where they'll go has left many on the sidelines as they wait for more homes to come to the market. That's why, if you're on the fence about selling, it's important to consider all your options.
What Does This Mean for You?
These two issues are keeping the supply of homes for sale lower than pre-pandemic levels. But if you want to sell your house, today's market is a sweet spot that can work to your advantage. In San Diego County, due to extremely low inventory and high buyer demand, homes that are strategically priced are receiving multiple, above asking offer prices in only a handful of days.
Be sure to work with our team to explore the options you have right now, which could include leveraging your current home equity. According to ATTOM: 
". . . 48 percent of mortgaged residential properties in the United States were considered equity-rich in the fourth quarter, meaning that the combined estimated amount of loan balances secured by those properties was no more than 50 percent of their estimated market values."
This could make a major difference when you move. Work with us to learn how putting your equity to work can keep the cost of your next home down.
Do you know an active duty San Diego County first responder or military member considering a move this year? The Svelling Group will gift $3,000 toward their closing costs when buying or selling a home as a 'Thank You' for serving our communities and our nation.
Bottom Line
Rate-locked homeowners and the fear of not finding something to buy are keeping housing inventory low across the country. But as mortgage rates start to come down this year and homeowners explore all their options, we should expect more homes to come to the market.